Our (logistic) software is modular
Available through PURCHASE, RENT OR SUBSCRIPTION
Developed to your wishes and tailored for your company.
Usable for large and small!








LogiFlora takes into account existing systems and can therefore also be a just addition
with respect for your current software environment.
We not only follow standards, we also co-develop these standards
Several important pillars in the horticulture
rely on the (software) foundation of LogiFlora.

Demo Shop
Your software company
for a reliable and successful
automation for the future…

Digitize the future business chain
and not the traditional one …
The world is developing
at a phenomenal rate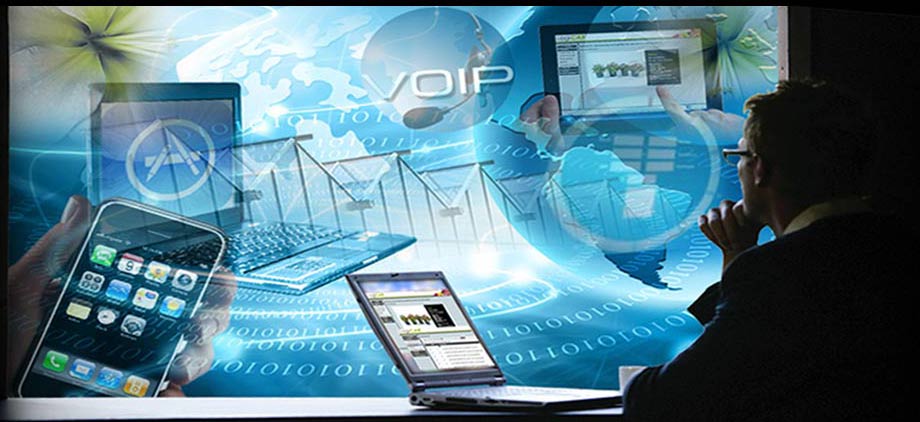 Also our "green" sector is changing rapidly.
End customers buy more and more themselves and your new generation relationships grew up with
computers, tablets and smartphones. More and more customers want to be able to buy 24 hours a day
and be able to follow the process from its source to the end customer.
LogiCAB
Current status LogiCAB:
The first versions of the platform LogiCAB were launched in 2004.
And the programming language was Omnis.
Today the system has been fully rebuilt to C# (C-Sharp), a programming language developed by Microsoft.
Recently, a group of prominent growers have investigated currently active systems in the market and used for all the same questionnaire.
The outcome is/was that LogiCAB goes beyond the current image and expectations of this group. A few years ago the VGB also came to this conclusion..
If anyone has a web shop with own codes,
the chaos is complete
In which LogiCAB differentiates itself compared with other systems?
The coding of the CAB-codes will remain the unique item
(Commercial Article File)
The authorization process prevents double names for a product,
monitors the spelling of features and gives an exact history.
LogiCAB is the only system which is independent in the market,
with no input from auctions or other parties in green.
The system works with a subscriptions structure and this prevents
high acquisition cost for software.
The system can be used for purchase and sale of several product groups and
is completely Internet based, so no high investments for additional hardware.
Also in functionality, the system is leading. There is no other system that keeps one
inventory line as the basis for sales in different casks or sales on different systems.
The current version of LogiCAB contains the solutions and experiences of a dozen
years of close communication with various buyers and suppliers.

There is no other system
that keeps one inventory line as a basis
... various offers
... several other deals
... various, other variation offers
...LogiCAB offers: 1 stock line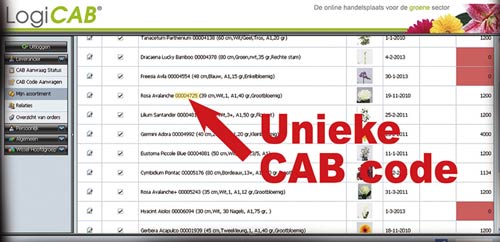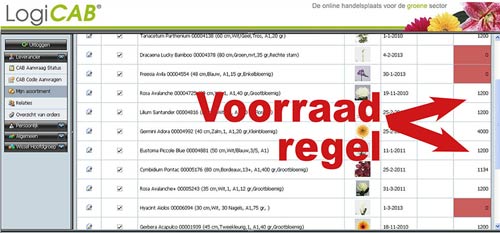 Stock sharing without LogiCAB:
total offer of which only half is interesting
Stock sharing without LogiCAB:
all kinds of different names for the same product
Stock sharing with LogiCAB:
LogiCAB prevents both problems
Logistics
LogiFlora Logistics is in the market for over 15 years and is fully in line with the current time
of stock sharing, electronic communications, scanning, connecting parties, etc.
Steadily, we build with our customers an innovative environment in which the internet
will play an even more prominent role.
We have already started with automating the grower and the buyer,
but also for (end) customers, transporters and other services for our current users,
our software will be a binding factor for clients anywhere in the world.
For the current logistic processes in (almost) all companies LogiFlora also offers larger modules
like the web shop, bouquet manufacturing, commission shops and the importer environment.
Many of these modules are also usable next to existing older/outdated systems
and LogiFlora also connects seamlessly with various administrative systems.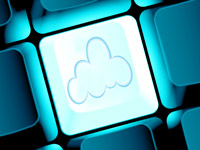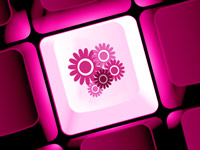 LogiFlora-light


Many smaller exporters start to see more and more the benefits of modern automation. Connection to the system of the accountant, process electronic order messages and send OGP (taken over products) via EKT's are some wishes that often are being brought up during the first meetings.


Logi-Bouquet
The solution for the invisibilities in the composition products!
The product name doesn't tell all about what this module can do for your company. The word 'boeketterie' could also be replaced by (plants) package or mix-containers, boxes, etc. or even a combination of these 'composite' products!
Logi-Webshop
The exporter/owner of a shop will give all sorts of information in that shop and the customer wants to work with this information in a user-friendly way.


Files like offers and orders must, to and from, be able to be transferred easy into the logistics system or in the shop.
Vision:
In the modern new (future) world your shipments will be monitored by your customers from its source to his or her customers. You become owner, organizer, supplier, buyer and transporter of a community. You offer a platform on which your members can profile themselves and customers can find all kinds of information about products and transport.
Opinions of clients and suppliers will be shown as a reference framework to new members/customers.
Payment transactions via a payment system linked to your invoice until the source.
You differentiated yourself by information. For example, organic farming, focus on participants, diseases and disease control, joint participation in fairs, product development, trend development, etc.
You are using social media to publicize your community quickly and use YouTube for your reference-building, anywhere in the world, so that new members of your community no longer need your advertising, but can see and hear how your relationships experience your platform.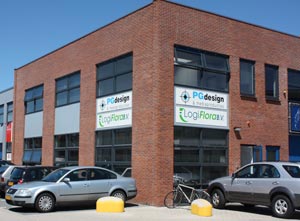 LogiFlora BV / LogiCAB likes to work with you in this rapidly changing world and to discover it together futher!
Call or email us for information or to make an appointment,
We look forward to seeing you....!
LogiFlora BV
Middenweg 1 • 1432 DE Aalsmeer • The Netherlands
T +31 297 36 27 76 • E info@logiflora.nl